Chair of the board: Martin Bond
Martin worked for the railways for 30 years, starting in a clerical position and working his way up through various operating positions, including timetabling and diagramming, and finishing as a training manager for various IT bespoke systems, including TOPS and Trust.
'After his retirement, he was active for some time with his local rail user group for the line between Crewe and Shrewsbury, and held the position of chairman of the Association, influencing the negotiations for the new franchise'., lobbying rail franchisees for improved services, and involved in specifying the replacement for the Wales and Borders franchise in 2018.
Vice Chair and Acting Operations Director: Alex Lawrie
Alex is an expert social enterprise advisor with twenty years' experience in legal structures, financial management, community share offers, property development and project management. He is employed by South West Co-operative Development as their lead development worker.
He is the author of the Somerset Rules – a new and unique governing document for multi-stakeholder co-operatives (suitable for co-op societies, community benefit societies and community interest companies), combining the accountability and democracy of co-ops with the social reporting and investment opportunities associated with social enterprise. He is also the author both of Simply Finance (Co-operatives UK, 2010) and Empowering the Earth (Green Books, 2000).
He has managed several community share issues enabling over £ 1M of social investment for two Housing Co-ops, Somerset Co-op Community Land Trust, Lightweight Community Transport, the Ecological Land Co-operative and others. In addition to Go-op, he is also a director of The Development Co-op, The Ecological Land Co-op and Somerset Co-op Community Land Trust.
Alex holds a BA in Politics & Parliamentary Studies and is a SFEDI Accredited Social Enterprise Advisor. Most recently he has gained a Masters Degree in Strategy, Change and Leadership from Bristol University.
Vice Chair and Communications and Impact Director: Roland Bushell
Roland Bushell is a freelance lecturer contracted to Bath Spa University in the UK, and U.Conn and Susquehanna Universities in the US.  His contribution to the Go-op board draws from this background and his former career as a manager working in operations roles in Marks and Spencers and GUS ltd.  As a resident of West Somerset, he has been active in campaigning for improvements in community transport provision and is a passionate advocate of renewable energy.  While this does not fully explain his membership of the West Somerset Railway Association or his lifelong involvement in the Heritage Rail Movement in the UK, combating imminent climate change and protecting the nation's industrial heritage need not be mutually exclusive in his opinion!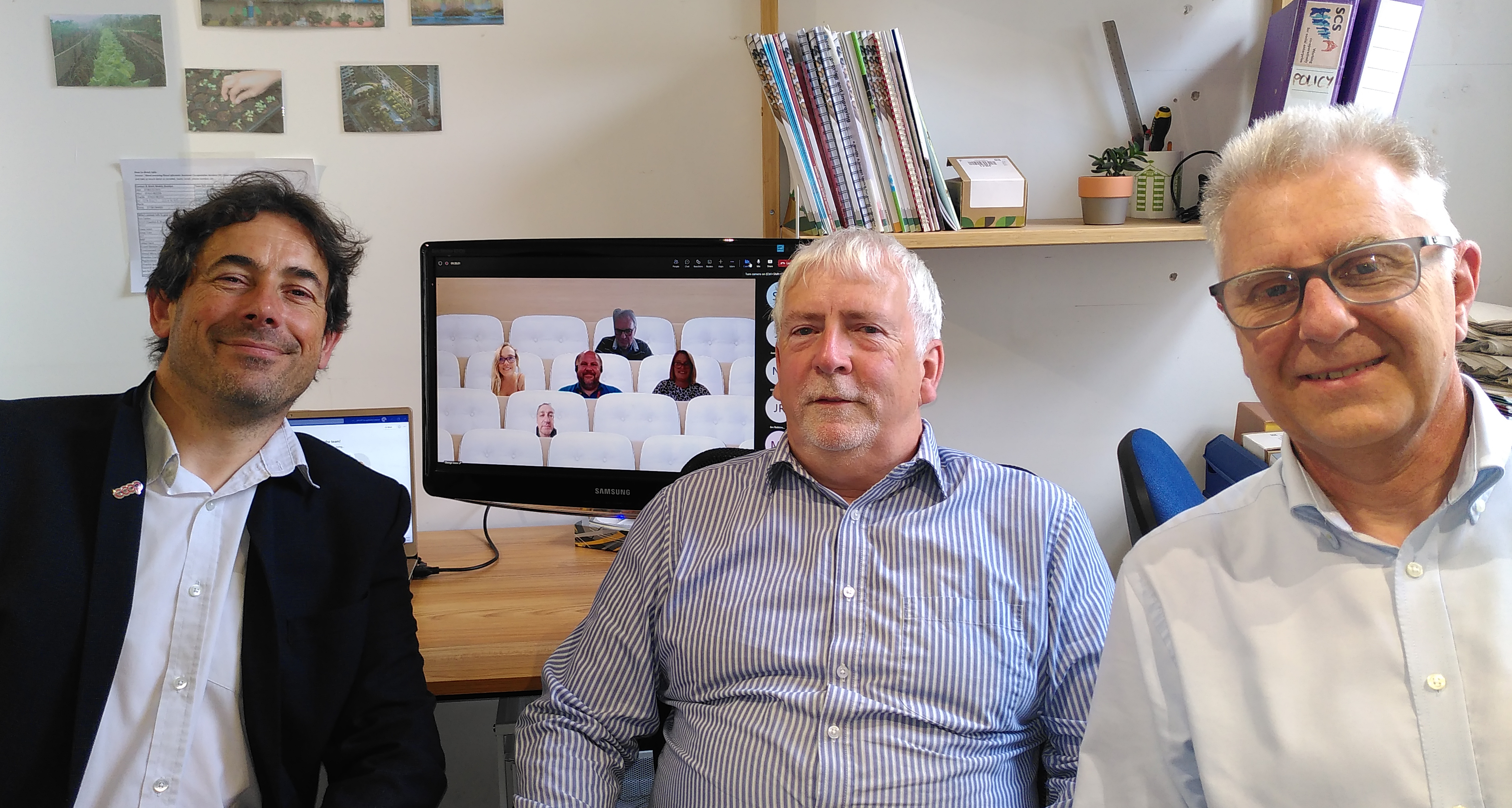 Project Launch Manager and Acting Safety Director: Clyde Schwartz
Clyde comes to Go-op Co-operative from Colas Rail, the award-winning railway specialists, delivering expert design, engineering, project management construction and maintenance solutions for the light rail, metro, mainline and highspeed markets. Clyde was the Head of Operations/Delivery/Optimization where he led and managed a team of over 250 staff managing a P&L of over £50 million. He has worked in and for the rail industry for nearly 20 years. He is efficient at controlling Budgets and Safety and Competency Management Systems as well as interfacing with all stakeholders and liaising with clients at a senior level.
Timetable and Performance Director: David Northey
David's background has stem from a long career in the railway working in many fields from passenger engagement and relationships, performance and project management and more recently strategic planning. He held the post of Senior Development Manager in Network Rail from 2012 until 2022. This has primarily been across the South West and has given him intermit knowledge of infrastructure, timetables, capacity and growth areas. David also brings a wealth of knowledge from his role as a trade union rep for TSSA and believes fully in the rights of workers to be heard and to be treated fairly in the workplace. His interest in railways has enabled him to support a number of community rail groups such as Severn-side Community rail partnership, Tarka line, SERUG and friends of Bridgwater Station.
Director: John Hassall
Chair of the Severnside branch of Railfuture for 8 years, John is a Co-Chair of Somerset Bus Partnership which works with Somerset County Council to improve bus services locally.
John has been pushing for new public transport services since he lived in Bromley and campaigned for a bus to travel between the Farnborough and Sidcup Hospitals.
In Taunton he is pressing for better links between park and ride sites and the Railway Station; and for better disabled access to public transport.
He has served as a Parish Councillor in Bishops Lydeard and Cotford St Luke since 2007. In 2019 he was elected to Somerset West & Taunton Council and will serve until its abolition in March 2023
He works as a Courier with Berry's Coaches and volunteer with West Somerset Railway.
Director: Dr. Nick Kennedy
Dr Nick Kennedy has spent 22 years as NHS Consultant, Anaesthetist and Intensivist working in frontline acute services, as well as seven years in hospital management roles.
He has served as a non-executive director of four NHS Clinical Commissioning Groups Governing Bodies (Boards), and two joint boards, in two healthcare systems (Bristol and Devon). This has provided him with experience of several different Boards styles, culture and dynamics; he understands what is needed to ensure successful board function and build consensus.
He is also a Trustee for St Margaret's Hospice in Somerset, and has a lifelong interest in railways and buses.
Director: Jeff Turner
Jeff has more than 30 years' international experience of consultancy and research around transport and social equity, including work in Europe, Eastern Europe, Central Asia, South East Asia and Africa. His expertise in mainstreaming gender into transport, energy, ICT and other infrastructure sector policy and operations has been developed in consultancy for a range of international finance institutions including World Bank, African Development Bank, European Commission, Asian Development Bank, DfID and KfW.
He has advised on transitions to low-carbon energy, promotion of gender-equity in infrastructure sector employment, development of gender equality indicators and monitoring systems for transport and energy infrastructure sector projects.
In a European context, his involvement in sustainable transport policy development has improved understanding of mobility demand and potential for low-carbon transitions, feasibility of PPP projects around inland waterway, rail, aviation, port and urban transport projects, and evaluation of transport sector operations and policy.
Director: Graham Dick
Graham is the most recent addition to the board. His bio has been added once he has had a chance to settle in!
Advisors to the board
Go-op's plans and decisions are its own, and no one else is to blame for anything we get wrong. But any credit that might be available must be shared with the experts that have supported us over the recent years.
Nigel Harris of The Railway Consultancy has gone above and beyond to help us find solutions to timetabling problems and robust methodologies for forecasting demand.
Tracsis are respected throughout the industry as one of the most diligent and skilled consultancies: their static and dynamic performance analyses have been crucial in helping us make our case for extra paths.
D-Gauge have provided a detailed, mile-by-mile analysis of our route for different types of rolling stock, and we will continue to rely on them for route compatibility testing.
Gemini have brought their experience of maintaining and modifying rolling stock to the problem of decarbonisation – specifically, helping us to deliver an Innovate UK funded study into the conversion of EMUs to battery power.
Southampton University's Wolfson Unit did great work modelling the energy savings that we could get with reduced wind resistance – another Innovate UK funded piece of work.
Lastly, thanks to the co-operative development bodies in the South West that have supported us. Somerset Co-op Services CIC (now South West Co-operative Development) were crucial in the early gestation of our co-op; we've also had useful advice and guidance from CAN (assist.coop) and Co-operative Futures.
Go-op is registered as a Co-operative Society no. 30678R with the FCA
c/o Somerset Co-op Hub
10 East Reach
Taunton
,
Somerset
TA1 3EW
UK